Printer Friendly Version
Assembling this tabernacle model set is an exciting team project that everyone can enjoy. And a nicely painted model can be very impressive and sheds new light on your understanding of the tabernacle. Here we've put together some pointers to help you with the painting and the assembly of the model. We've also provided some scriptural references to the different colors used in the tabernacle, so be sure to look them up as needed. The assembly of the tabernacle model can be a great compliment to the free Sunday School lessons on the tabernacle.
Happy tabernacle making!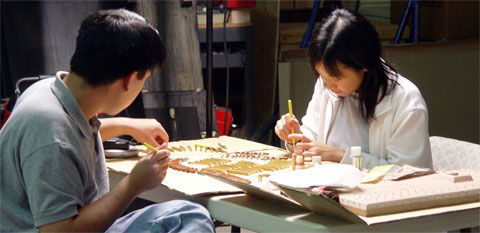 Tools You Need
Before you start opening the box and taking out its contents and putting the parts together, be sure that you have all the tools you need. In order to build a nicely painted tabernacle model, you must finish painting all the parts before you assemble the pieces. For this demonstration, we've used the following tools:
Acrylic paint (bottles) in gold, silver, bronze and brown (4 colors).
OR you could substitute the gold and bronze with spray paint instead of acrylic paint. The spray paint is more expensive, but much faster to paint (especially if you're making more than one set). The bronze acrylic paint will still be needed in addition to the spray paint.
Acrylic paint set of the rainbow colors, black and white (8 colors).
Paint brushes in various sizes.
Texture Spray (Fleck Stone Spray) — 1 can
A pair of scissors
Super glue
Toothpicks
Glass of water (for washing paint brushes)
Some paper towels
Cardboard as a working surface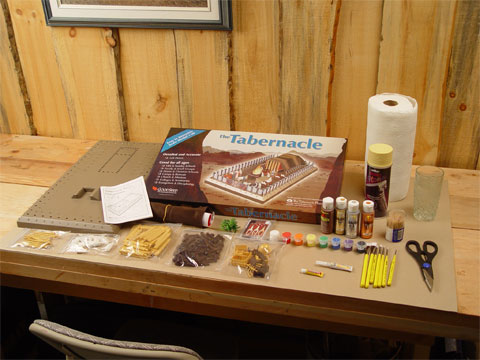 1. Spray the base
To achieve a "desert" feel for the base, use the texture spray, available at most hardware stores and super stores, as well as art and craft supply stores. First find a place with good ventilation (outdoor is great, weather permitting). Apply a layer (enough to cover most of the plastic) of texture on the top surface and the four sides of the base. Do not over apply. Let dry (it may take several hours). Depending on the spray, you may need to apply a second layer.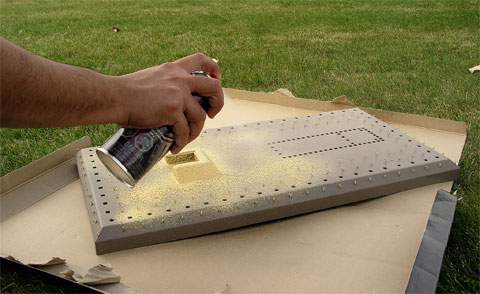 2. Paint the posts
Paint the posts in the following colors:
Fence post (cf. Exodus 27:17, 38:10, 11): silver top and hooks with bronze base. Paint the bronze base first and let it dry. Then paint the silver top and hooks.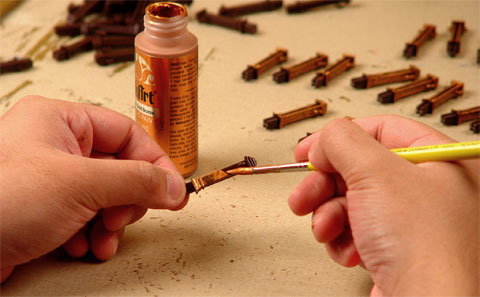 Depending on your interpretation of the passage, the "bronze base" can either include the whole post or just the "base."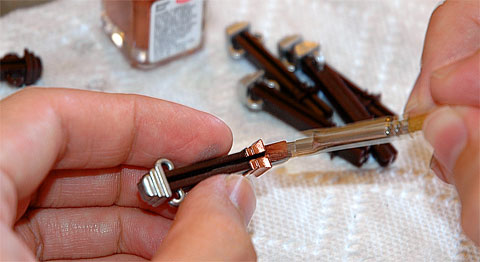 The finished posts should look like one of the following: